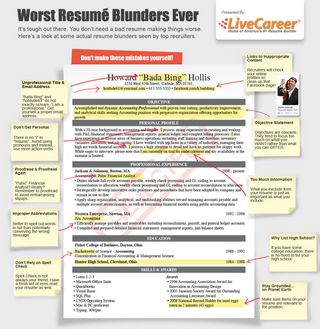 Recently I have edited a resume for one of my friends, and, what a miracle, - after 2 years of being neglected he received invitations for interview from some of the leading companies in his field. Today he is finishing his probationary period, and I believe everything will be fine with him. The same story happened to my younger sister.
For many years I am "on the other side" in the battle for employment (reading resumes, inviting for and participating in interviews, making job offers), and it occurred to me - maybe this is the secret of my "magic touch".
Everything had been written and invented a long time ago; you can find a lot of useful and useless information on this topic in the Internet. But every time reading someone's resume, I am surprised and in some cases even upset.
In our busy times it should ideally take you one minute to read a resume, but if your sight clings on different fonts / decorations, tables, chronological inconsistencies - in general, if one has to spend on reading more than two minutes, then resume is immediately being sent to the trash. It's too hard, yes, but if you need to read resumes of 20-30 candidates on one position, you have no choice - efficiency is a key. The reader should feel comfortable! His or her eyes have to scan no more than 2 pages and find the necessary information in the supersonic speed (by the way, only after 8 years of working experience in Canada I had added third page to my resume). The narration should be gradual, logical and precise - "make sense". Reading should leave you with sense of understatement (in the good sense of the word); the prospective employer must be willing to meet you!
Usually immigrants bring a wealth of knowledge and diplomas, but believe me, no one will waste the time to read the name of "Novosibirsk Medical Institute" or "Kharkov Polytechnic Institute", even if it is written in English. It's sad, but if we got involved in this game, we play by the rules or do not play at all.
So, one of the rules states: formal education in the resume should contain the key phrase "evaluated by the [name of local school] to be equivalent to a [BA/MA/PhD] degree from a Canadian University". This sentence is worth the money and effort, but it's worth it! Ordinary English translation certified by a lawyer does not help; diplomas and certificates have to be evaluated by local educational institution.
Do not waste your time (and space on 2 pages of your resume), listing the soft skills like discipline, self-motivation, teamwork, knowledge of Internet, possession of package MS Office (especially if your resume is poorly formatted in Word). All these skills are implied by definition, and it is strange if you don't have them. Remember - an interview is ahead of you. It is better to sell your skills during the interview backing it by specific examples and truthful stories.
Hence, here is the main conclusion: the main purpose of resume is to get invited to an interview. Your resume - it's not 50% success rate, as is commonly believed, it is the whole 90%. So, indicate in your resume interesting, unusual facts, additional training courses, participation in projects, development, rationalization proposals.
A president of the first year student club in nursing school will necessarily possess qualities such as discipline, the ability to find the optimal solution. A treasurer of the PTA at school is in friendly relationships with the basics of math and accounting, is easily able to balance debit and credit, and is for sure responsible. These examples of different roles are more important than standard phrases in the "qualifications" section.
Invitation to an interview is a breakthrough, it means that your resume is "working", you have been noticed, and moreover: you are potential member of the club. The people are ready to put their efforts to find a window in the schedule, and to spend their time on you.
Do not believe in myths saying that resumes are read and scanned only by HR professionals or "bots" looking for just keywords. Self-respected employers (that we would like to work for) read all the resumes, but do it fast!
My next article will be dedicated to the matter of preparation to an interview.